The European Commission and the European Committee of the Regions (CoR) have embarked on a new partnership to accelerate the delivery of the Green Deal in Europe's regions and cities. This cooperation aims to give local and regional governments the support and knowledge they need to apply more effectively for national recovery and EU funds to make the Green Deal real in every community, specifically looking at improving the energy efficiency of buildings, developing sustainable transport, and protecting natural habitats.
The two institutions will work together to empower and mobilise local and regional governments in Europe whilst working with national governments to place the Green Deal at the heart of their national investment plans.
Frans Timmermans, Executive Vice-President of the European Commission and Commissioner for the European Green Deal, said: "The European Commission and European Committee of the Regions will work together to start the work on climate action in our regions that can inspire the rest of the world."
Green Deal Going Local
Earlier this year, the CoR launched the Working Group Green Deal Going Local with the goal of ensuring that both the European Green Deal and the EU's recovery strategy actually translate into tangible projects and direct funding to regional governments and local authorities.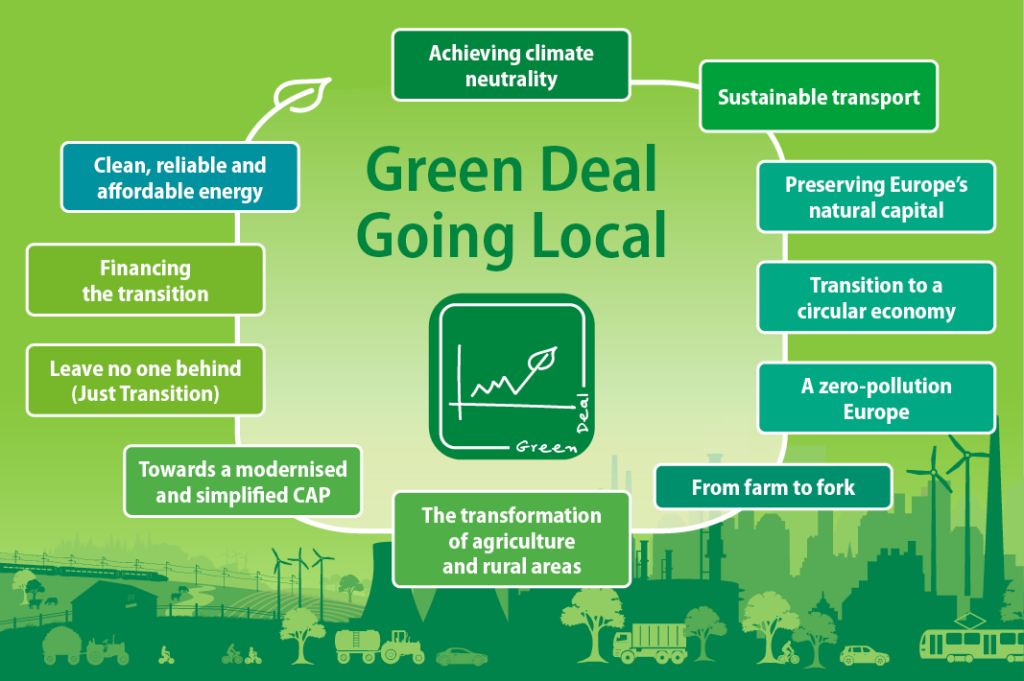 The Working Group comprises 13 cities and regions, among them, Marche Regional Council (Italy), Nouvelle-Aquitaine Region (France), Tipperary County Council (Ireland), Province of Drenthe (Netherlands), and Schleswig-Holstein State (Germany).
The working group has three specific objectives:
• To bring together the views of cities and regions in the CoR on the numerous policy initiatives under the European Green Deal, and make sure that their voice is heard.
• To facilitate EU institutions working together in order to place cities and regions at the heart of policies promoting carbon-neutrality.
• To convey the challenges that local and regional authorities face while implementing the green transition locally and to highlight their achievements and best practices, so as to facilitate their replication across the European Union.
​Current priority files of the working group include the European Climate Law and Climate Pact, the Just Transition Fund, a new industrial strategy for Europe, water, hydrogen, the new Circular Economy Action Plan, bio-diversity and forests.
Open call for best practices
The Working Group has an open call for European regions and cities to share their best practices delivering the transition on the ground through concrete projects related to energy efficiency, low-emission transport, sustainable food management and green infrastructure.
For further information, please visit the Green Deal Going Local website.