On 18 and 19 May, CONGOPE – the Consortium of Provincial Autonomous Governments of Ecuador, organised a virtual event as part of its APROCC (Provincial Action against Climate Change) project, where governments and international organisations were able to discuss the contribution of local governments to national commitments and global climate action.
The event discussed the topics of climate change and territorial development, the link between local governments and NDCs, as well as the access to climate finance, among others.
On 19 May, the session "Challenges for subnational governments to contribute to the sustainability of NDCs" gathered a panel of international networks including Regions4, ICLEI, UCLG and Mercociudades, with the moderation of Jordan Harris from the COP25 Presidency.
Regions4 Presidency was represented by Ms Amaia Barredo, Vice Minister for Environmental Sustainability of the Basque Country. During her intervention, Ms Barredo highlighted key aspects regarding innovation and financial decentralisation for effective regional and local climate action.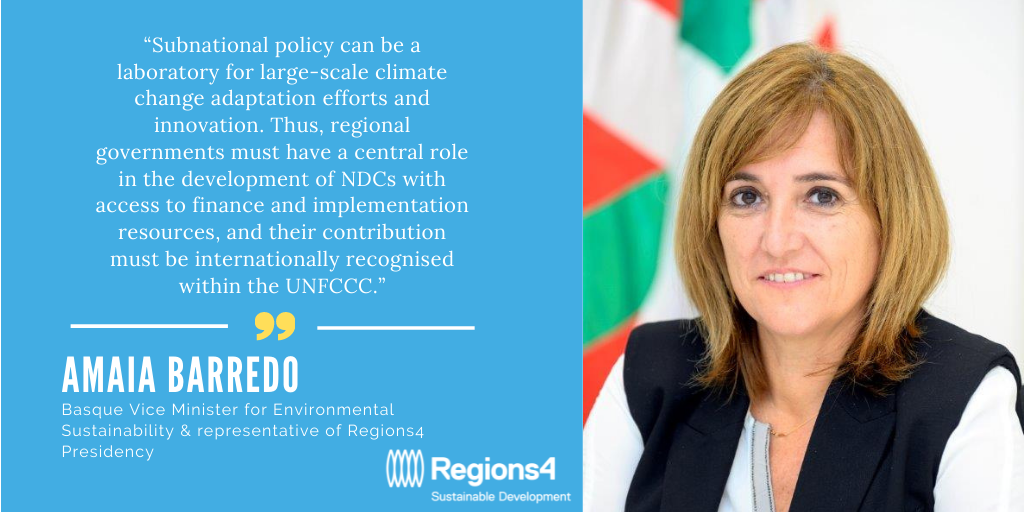 "(…) To foster innovation within local responses to climate change, at Regions4 we understand that vertical and horizontal cooperation is key to equip governments with the financial and technical resources to implement effective strategies and actions. That is why in 2015 we created RegionsAdapt, the first global initiative that inspires and supports regional governments to take concrete action, collaborate and report annually on their progress in climate change adaptation", said Ms Barredo.
RegionsAdapt has shown that subnational policies can be a laboratory for large-scale climate change adaptation efforts and innovation. Innovation must be used to develop solutions to climate change that are appropriate to each environment, through instruments that allow obtaining better knowledge of the territory, such as regionalised scenarios and vulnerability risks assessments, among others.
However, to foster local innovation and ensure that subnational government action is a key part of national climate action plans and commitments, it needs to be reflected in long-term national budgets, and the means for implementation must be made available for all levels of government.
According to the RegionsAdapt 2020 Report, half of the regional governments reported that central governments facilitate their access to adaptation funds, but only one third stated that there is a financial mechanism at the national level to support implementation at the sub-national level.
In the same report, when asked about the main constraints to implementing adaptation actions, access to financial resources was reported as the first barrier, followed by lack of knowledge, institutional capacity, and regulation.
Provided that regions and local authorities deliver more than 70% of the climate change mitigation measures and up to 90% of adaptation measures, specific recognition of the key role of regional governments in nationally determined contributions and national adaptation plans is key, as well as agreed financial support and references to the importance of providing sub-national governments with funding, especially in developing countries.
During her intervention, Ms Barredo reminded that: "(…) International recognition of innovative regional and local contributions to climate action is essential. We are therefore proud that the UNFCCC Climate Champions have selected RegionsAdapt among the initiatives of the Race To Resilience campaign that are making a difference in strengthening the resilience of our planet, in this case hand in hand with regional governments."

Further information
To revisit the event content please visit the CONGOPE Facebook channel.