On 10 June the Global Taskforce of Local and Regional Governments held an open consultation with the member networks of the constituency to provide inputs on the future of global governance and multilateralism as part of the UN75 Visioning Report.
As part of the constituency, Regions4 shared their vision for shaping the future raising the voice of regional governments as essential leaders for co-governance and global cooperation, as they are key for the deployment of the international agendas and global goals.
Regions4 Secretary General Iñaki Susaeta stressed that in order to achieve the structural change we must include more ambitious action towards the achievement of the 2030 Agenda and SDGs, shared governance that allows coherent policy-making for the effective implementation of the international agreements, and lastly, more opportunities for high-level representation at instances such as the Local and Regional Governments Forum which can contribute to the decision-making processes.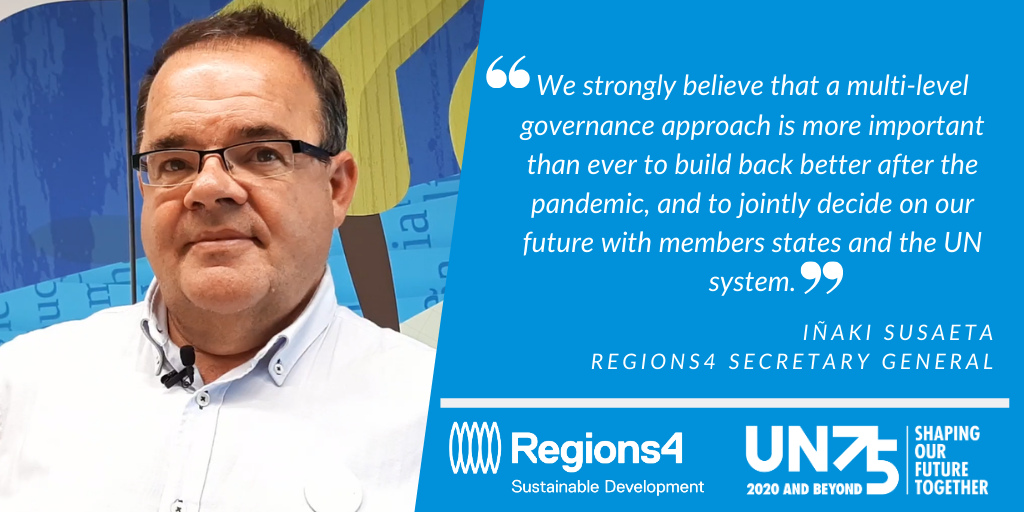 Furthermore, Regions4 highlighted that in terms of governance, the greatest challenge that our interconnected future will be facing from now until 2045 is to achieve the cultural change that enables shared decision-making, democratic and meaningful participation, as well as a strong engagement of non-state stakeholders in the UN System. Regions4 believes that change cannot be put on hold until 2045, as there is an urgent need for immediate progress in recognizing and integrating local and regional governments as active actors of the multilateral system.