The UN Race to Zero Dialogues wrapped-up last 19 November, a 9-day event series, which gathered regions, cities, businesses, and other non-State actors, encompassing more than 300 speakers from 65 countries. The dialogues examined how to drive the transformations needed to cut greenhouse gas emissions to net-zero and build resilience to the impacts of climate change, and how to deliver these transformations across eight key sectors outlined through the Climate Action Pathways.
Regions4 joined the Race to Zero bringing the voice of regional governments working to reach net-zero territories by 2050.
Building a Climate Resilient and Just Future for all: knowledge and voices from the frontline
In partnership with CDKN, ICCCAD, CGIAR, and ICLEI Africa, Regions4 co-organised the event on 16th November which highlighted the roles that grassroots community organisations are playing in helping people recover from the COVID-19 pandemic and other issues such as the impacts of climate change.
The event brought together community leaders from across developing countries such as India, South Africa, Kenya, and Burkina Faso working on mobilizing resources for community climate adaptation and resilience.
Regions4 member Centre Nord participated in the dialogue represented by Mr Augustin Irwaya, who showcased their latest efforts to recover from the pandemic while tackling the climate emergency and presented their Participatory Assessment of Vulnerability and Capacities in Grassroots Communities. Mr Irwaya explained that "Centre Nord is implementing adaptation actions on sanitation, desertification, and water management in contribution to the climate resilience of our territory", and highlighted that "the participation in global initiatives such as RegionsAdapt has helped increase our technical knowledge as well as our political commitment".
High-level Champion, Mr Nigel Topping also participated in the dialogue and recognized the key role played by grassroots communities in building resilience, stating "community leaders are showing us what resilience is". Furthermore, he stressed the importance of multi-level governance climate action and a balanced approach between mitigation and adaptation in order to successfully reach a resilient future. "We all agree we cannot achieve a resilient future purely concentrating in mitigation. We can have a rich zero-carbon life and a terribly poor carbon life. That is not a resilient future either."
>> Watch a recording of the event here
States and Regions on the Path to Net-Zero
On 18 November, the Under2 Coalition, UCLG, California Natural Resources Agency and Regions4 co-hosted the "States and Regions on the Path to Net-Zero" as the official Regions Dialogue of the Race to Zero.
Speakers included representatives from leading regions such as Scotland, Catalonia, Basque Country, Jalisco, and Sao Paulo who presented what it means to be a net-zero region and how to set and achieve a net-zero target.
The Scottish Cabinet Secretary for Environment, Climate Change and Land Reform, Ms Roseanna Cunningham highlighted the importance of working in solidarity, promote collaboration and share knowledge and expertise on the way to COP26 and beyond to achieve a net-zero future. "COP26 must showcase the leadership of subnational governments working to tackle the climate emergency. […] Scotland's Just Transition Commission's goal is to achieve a net-zero economy with people at the core", she stated.
Furthermore, she stressed the active role of subnational governments working together to also address the biodiversity crisis, through commitments such as the Edinburgh Declaration led by the Scottish Government and supported by Regions4.
On the other hand, Basque Minister for Economic Development, Sustainability, and Environment and Regions4 President, Ms Arantxa Tapia, presented the Basque Country's economy decarbonisation and climate change journey stressing that "there are no shortcuts or excuses in the transition towards a net-zero society that is resilient to the impacts of climate change."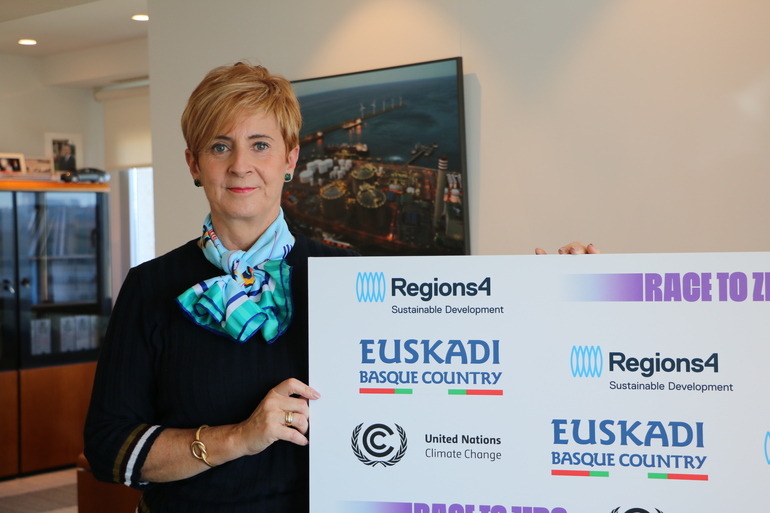 The Energy Transition and Climate Change Act on which the Basque Government is working aims to achieve net-zero greenhouse gas emissions by 2050 and advance towards a territory that is better protected against the unavoidable climate change impacts. "Our policies are based on three pillars: a strong political commitment, an action plan to achieve our goals, and the economic resources to support them", said Ms Tapia.
Regions4 President also stressed that is fundamental to include regional governments when defining global targets and mechanisms, as they are the main stakeholders to implement the major climate agreements locally and regionally.
>> Watch the video recording here.
>> Read the outcomes of the Race to Zero Dialogues here.
Find out more about out work
Regions4 continues to boost climate ambition and action through its flagship initiative RegionsAdapt, gathering 71 leading regions in climate adaptation. To join our community and our efforts on the road to COP26 and beyond, please contact Mayra García-Blásquez at mgarcia@regions4.org